Description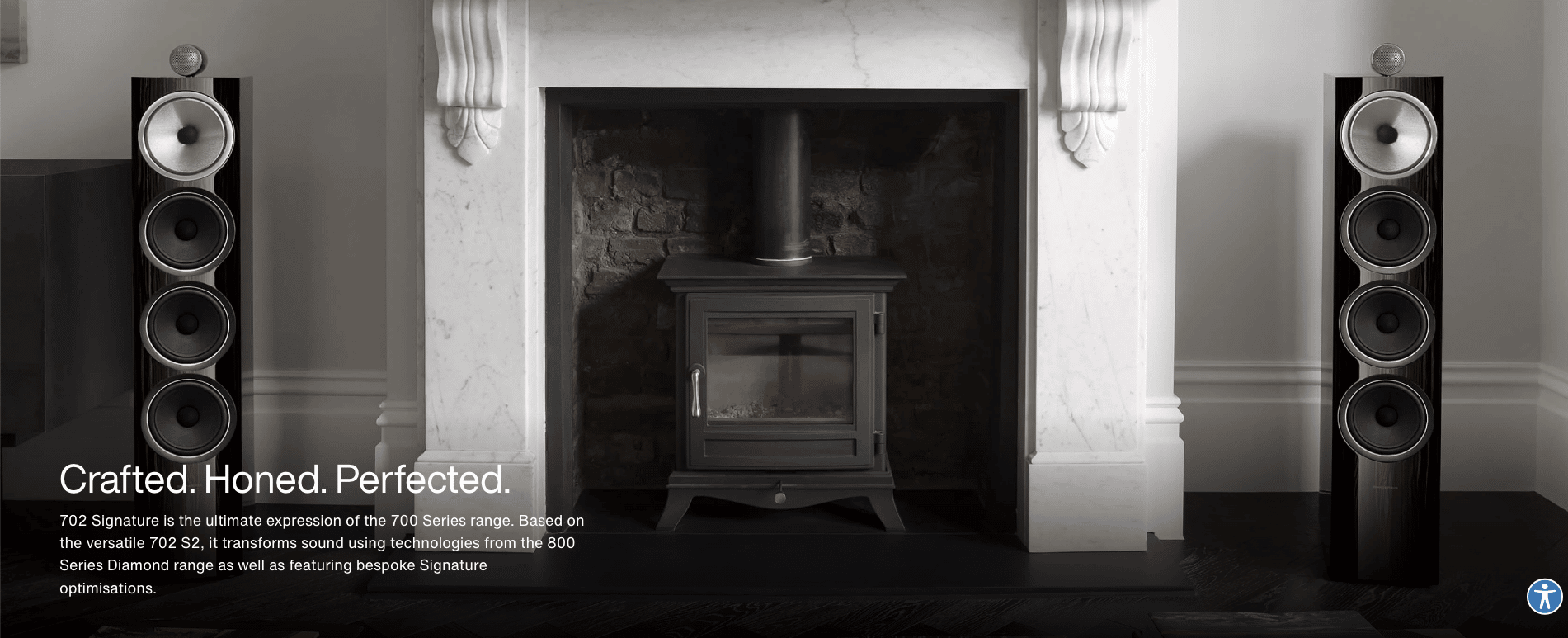 Crafted. Honed. Perfected.
702 Signature Floorstanding Speakers is the ultimate expression of the 700 Series range. Based on the versatile 702 S2, it transforms sound using technologies from the 800 Series Diamond range as well as featuring bespoke Signature optimisations.
Optimised tweeter housing
Milled from a solid block of aluminium, the Solid Body Tweeter housing design creates an acoustically optimised housing that is exceptionally inert and resistant to resonances.
Sharper detail
Carbon Dome tweeters are purpose-built for the 700 Series and deliver pinpoint imaging accuracy and detailed insight in to your music.
Truly amazing sound
Voices and instruments are delivered with purity and precision, thanks to the smooth, accurate Continuum cone midrange driver.
Clean and revealing
The midrange drivers in 702 Signature feature a decoupled design, developed from the 800 Series Diamond. Decoupling reduces cabinet coloration and boosts midrange clarity.
Refined, articulate bass
The Aerofoil Profile bass cone has a unique wing-shaped form, providing stiffness and rigidity where it's needed most. The result: accurate, dynamic bass.
Bowers & Wilkins 702 Sig Datuk Floorstanding Speakers- Specifications
Size & weight

Dimensions
Height: 994mm (39 in) cabinet only
1087mm (42.8 in) including tweeter and plinth
Width: 200mm (7.9 in) cabinet only
366mm (14.4 in) including plinth
Depth: 337mm (13.3 in) cabinet only
364mm (14.3 in) including grille and terminals
452mm (17.8 in) including plinth
Net weight
29.5kg (65 lb)

Table header is decorative

Technical details

Technical features
Decoupled Carbon Dome tweeter
Solid Body Tweeter-on-Top
Continuum™ cone FST™ midrange
Decoupled midrange
Aerofoil™ Profile bass cones
Flowport™
Description
3-way vented-box system
Drive units
1x ø25mm (1 in) Carbon Dome high-frequency
1x ø150mm (6 in) Continuum cone FST midrange
3x ø165mm (6.5 in) Aerofoil Profile bass
Frequency range
-6dB at 28Hz and 33kHz
Frequency response
46Hz – 28kHz ±3dB
Sensitivity
90dB spl (2.83Vrms, 1m)
Harmonic distortion
2nd and 3rd harmonics (90dB, 1m)
<1% 86Hz – 28kHz
<0.5% 110Hz – 20kHz
Nominal impedance
8Ω (minimum 3.1Ω
Recommended amplifier power
30W – 300W into 8Ω on unclipped programme

Table header is decorative

Finishes

Cabinet finishes
Datuk Gloss
Midnight Blue Metallic
Grille finishes
Black
Black

For more floorstanding speakers click here.